mjbreviewers
Engaged In Death
Wedding Planner Mystery, Book #1
Stephanie Blackmoore
5 Stars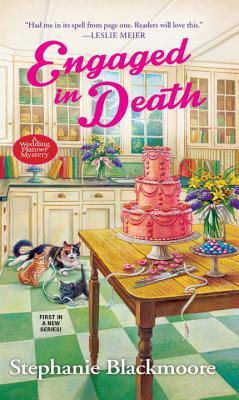 Synopsis:
"Had me in its spell from page one. Readers will love this." –Leslie Meier
All appears peaceful in sleepy Port Quincy, Pennsylvania–but in this small town, old grudges die hard. . .
After dumping her cheating fiancé and cancelling the wedding, Mallory Shepard can't bear another disaster. So when the former bride-to-be unexpectedly inherits Thistle Park, a ramshackle mansion in her ex's hometown of Port Quincy, it's a problem she can't afford–literally. Abound with stray cats, peeling wallpaper, and nosy neighbors, Mallory is dying to sell it off–once she finally fixes up both the place and her messy life. . .
Turns out, Thistle Park has its charms. But the honeymoon phase is abruptly cut short when an unwanted visitor is found dead on the front lawn. Enlisting the help of her sister Rachel, Mallory vows to…
View original post 531 more words